Services
DCspine

Foundation of your ICT infrastructure

DCspine portal
Quickly and easily achieve reliable connectivity between data centers and to the cloud
The platform that makes connectivity between data centers as easy as it is within a single data center.
Video - Discover DCspine's solutions
DCspine connects more than 70 data centers in the Netherlands, Belgium and Germany, providing users with a wide variety of connected services, applications and locations, from large data center hubs to locations at the edge of the network. In our animation we explain how this works.
Datacenter interconnectivity
To ensure your continued success in the future, your ICT network will have to meet increasingly demanding requirements for connectivity and quality. A fully automated online interconnection platform for datacenters will give you 24/7 access to all your applications, data and workloads. We can help you create and manage a flexible, scalable and reliable ICT infrastructure – without making it unnecessarily difficult or expensive.
Fully automated and software-defined network;
Streamlined connectivity between datacenters and the cloud;
High bandwidths, scaling up and down without downtime during transitions;
Reliable and scalable ICT infrastructure;
Direct network connections for locations/customers;
How does it work?
Setting up and managing connections
DCspine is essentially a 'virtual meet-me room' for all connected datacenters. You can easily set up reliable connections between datacenters and to the cloud, which you manage from an online portal. Once you have established the first connection to the DCspine platform, it is only a matter of minutes before you can create new connections. This allows you to set up connections between multiple datacenters just as easily as within an individual datacenter. We would love to tell you more about all the possibilities.
Manage all your connections from 1 portal;
Set up live connections quickly, easily and on demand;
Flexible contract options (from 1 day to 3 years);
Interconnection enables you to connect directly to service and cloud providers.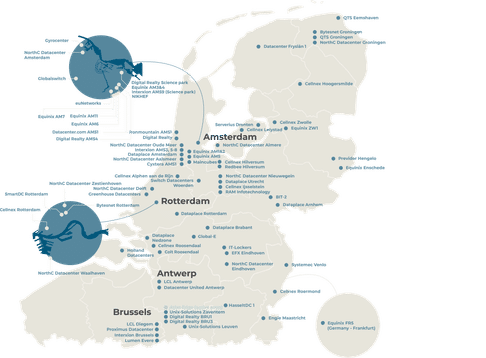 Datacenterlocations
On the right you see our network map with planned and connected data centers. On this page you will find an overview of all connected data centers and the corresponding contact information.